Pipe Caps / End Caps
For over 50 years, Wedge Products has supplied pipe end caps to the pipe, boiler, and tubing industries. We manufacture plain-end pipe caps in nominal sizes ranging from .540" to 12.750" diameter. Our caps are of one-piece construction, drawn from sheet steel or aluminum.
Serving the Pipe, Boiler and Tubing
Market for Over 50 Years.
We're famous for our tight fit!
Caps can be galvanized or plated
upon request!
Our Famous Pipe Cap "Tight Fit" The tight fit that we're famous for is the result of a three lobed offset built into our forming dies.

Our O.D. Caps are a Green Product -- totally recyclable.
Applications

Fabricators of all types and grades of pipe have used our caps to protect ends and keep out dirt and other foreign material. Pipes capped with Wedge end caps arrive at the project site in perfect shape and ready for installation.

A Note ...Our Caps fit on the OUTSIDE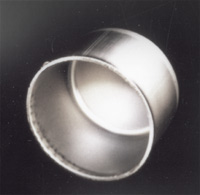 Special caps,
belt & groove
are available upon request!

Wedge Pipe End Caps are
Available in Carbon Steel,
Stainless Steel and Aluminum
O.D. CAPS - PLAIN END PIPE, BOILER & TUBING
Most Sizes available in galvanized upon request.
| YOUR NOMINAL PIPE SIZE | YOUR O.D. SIZE | Part Number STEEL (1008) | Part Number ALUMINUM (3003) | Part Number STAINLESS (304) |
| --- | --- | --- | --- | --- |
| 1/4" | .540 | 6038 | 916 | 6038.S |
| | .625 | 6018 | 933 | 6018.S |
| 3/8" | .675 | 6019 | 934 | 6019.S |
| 1/2" | .840 | 6000 | 913 | 6000.S |
| | .875 | 6020 | 935 | 6020.S |
| | 1.000 | 6021 | 917 | 6021.S |
| 3/4" | 1.050 | 6001 | 914 | 6001.S |
| | 1.125 | 6022 | 918 | 6022.S |
| | 1.250 | 6023 | 919 | 6023.S |
| | 1.3125 | 6024 | 920 | 6024.S |
| 1" | 1.315 | 6002 | 915 | 6002.S |
| | 1.375 | 6025 | 921 | 6025.S |
| | 1.500 | 6026 | 922 | 6026.S |
| | 1.625 | 6027 | 923 | 6027.S |
| 1 1/4" | 1.660 | 6003 | 900 | 6003.S |
| | 1.750 | 6028 | 924 | 6028.S |
| | 1.875 | 6029 | 925 | 6029.S |
| 1 1/2" | 1.900 | 6004 | 901 | 6004.S |
| | 2.000 | 6030 | 926 | 6030.S |
| | 2.125 | 6031 | 927 | 6031.S |
| | 2.250 | 6032 | 928 | 6032.S |
| 2" | 2.375 | 6005 | 902 | 6005.S |
| | 2.500 | 6033 | 929 | 6033.S |
| | 2.750 | 6034 | 930 | 6034.S |
| 2 1/2" | 2.875 | 6006 | 903 | 6006.S |
| | 3.000 | 6035 | 932 | 6035.S |
| | 3.250 | 6036 | 931 | 6036.S |
| 3" | 3.500 | 6007 | 904 | 6007.S |
| 3 1/2" | 4.000 | 6008 | 905 | 6008.S |
| 4" | 4.500 | 6009 | 906 | 6009.S |
| 4 1/2" | 5.000 | 6010 | 907 | 6010.S |
| 5" | 5.563 | 6011 | 908 | 6011.S |
| 6" | 6.625 | 6012 | 909 | 6012.S |
| 8" | 8.625 | 6013 | 910 | 6013.S |
| 10" | 10.750 | 6014 | 911 | 6014.S |
| 12" | 12.750 | 6015 | 912 | 6015.S |
F.O.B.: Wedge Products, Inc.
Terms: Net 30 Days with approval.
Lead time for items not in stock: 4-6 weeks.
Prices and lead times are subject to change without notice.
$150.00 minimum order